Our Strategy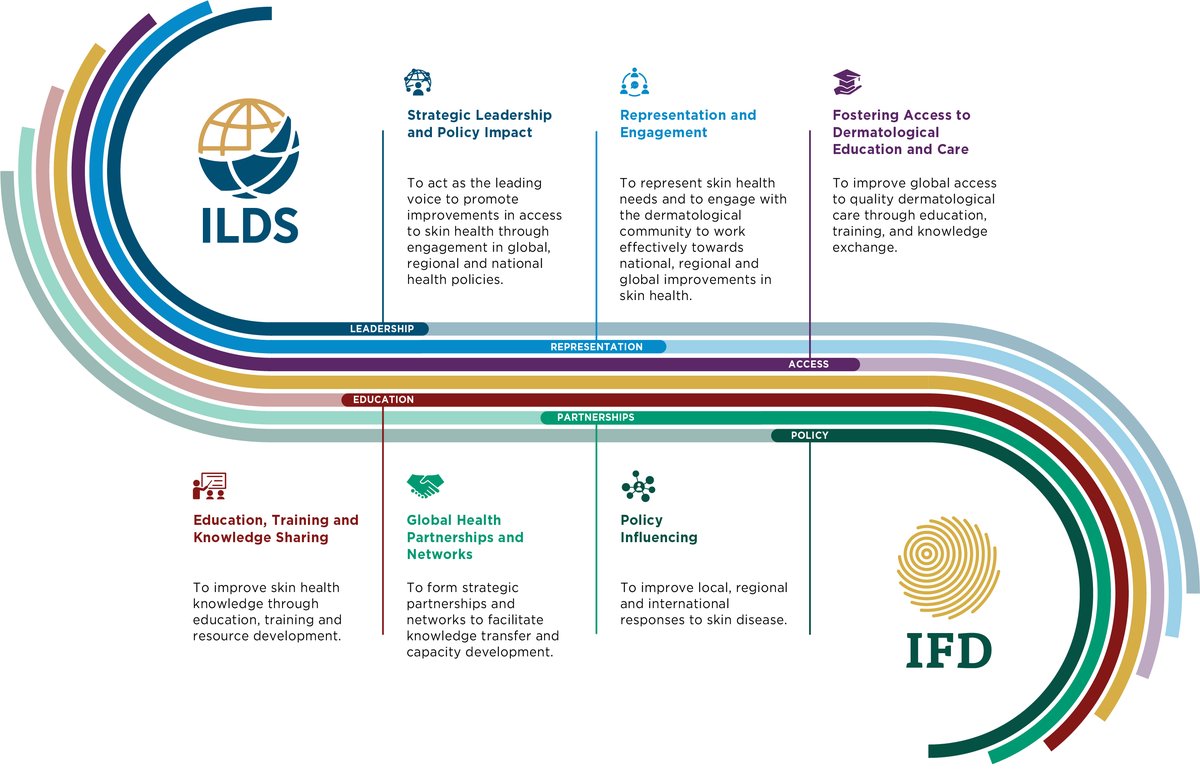 The ILDS operates on a four-year cycle culminating in the World Congress of Dermatology (WCD). Our Strategy development is led by the ILDS Board in consultation with our Members and Partners. The ILDS World Skin Summit (held every four years, in the mid-point between Congresses) is one of the key opportunities to engage our Members and Partners in discussion about our future plans and areas of development. It helps to ensure that the ILDS is relevant and knowledgeable of the challenges and opportunities for dermatology and how we can improve the skin health of people around the world.
2020-2023
The theme for our 2020-2023 Strategy, Global Partnerships for Skin Health, recognises our increasingly interconnected world where health issues cross borders and where we can only achieve our vision of 'Skin Health for the World' by working with others.
The partnerships that we foster through our activities lead to improvements in the quality and availability of skin health resources and services worldwide. Strengthening partnerships and networks facilitates the development of innovative ideas, knowledge transfer and understanding between groups and individuals with shared as well as different experiences. These connections provide opportunities to raise awareness of the cross-cutting nature of skin health and to increase the profile of dermatology globally.
As well as building on existing partnerships and collaborative projects, we will be launching new initiatives such as the Global Partnerships in Education and Care (GPEC) Programme. This aims to improve access to education and care at a global level by fostering and managing a global programme of partnerships between dermatology departments to raise the level of education and care worldwide.
Download
Joint ILDS-IFD Strategy 2020-2023
Understand how ILDS and IFD together are delivering Global Partnerships for Skin Health to achieve Skin Health for the World
Download PDF
A particular focus in our new strategy is partnerships with patients' organisations. The ILDS is committed to the inclusion of the patient voice in our work, and we collaborate with patients' organisations on a range of issues. During this strategic cycle we will be developing broader, more systematic and meaningful engagement with patients' organisations in order to achieve a better understanding of the needs and expectations of patients. With better understanding we can work to improve the health and quality of life of patients.
Working with our Members and Partners including dermatology specialists, patients, policy-makers, healthcare professionals, intergovernmental organisations (including the World Health Organization), nongovernmental health and development organisations, and educational institutions, is vital to increase awareness, cooperation and communication within the global dermatology community, to promote high quality education, clinical care, research and innovation that will improve skin health globally.